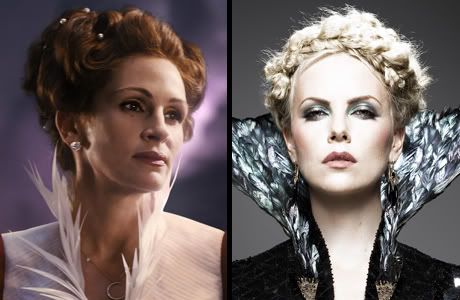 BAD APPLES? | Occasionally, amidst the glut of remakes and sequels it cranks out, Hollywood decides to do something refreshing and original by turning a high-concept idea — disaster-via-comet flick, volcano thriller, friends-with-benefits sex farce — into two separate movies released in close proximity to each other. Totally audacious, right? Now there's a pair of lavish Snow White fantasies opening in the next six months, but March's MIRROR MIRROR and June's SNOW WHITE & THE HUNTSMAN at least appear to be very different approaches to the same old fairy tale: One seems powered by nightmare fuel, the other looks like pure whimsy. On this episode of Scorncast, Jasper and co-host Ghostface Millah recap the new trailers for both films, wonder how Kristen Stewart lost her voice, and roll their eyes at yet another depiction of Julia Roberts struggling to fit into her clothes. Click the Scorncast banner below to listen!

■■■ If you must: Mirror Mirror opens March 30.
■■■ If you must: Snow White & the Huntsman opens June 1.


Scorncast #32: Who's the Scorniest of Them All? (27:50)
original music by Bug