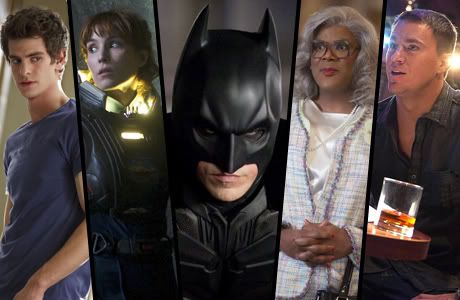 WHAT TO EXPECT WHEN YOU'RE EXPECTING SUMMER MOVIES | Batman and Pixar and Bourne, oh my! Yep, it's high time for Scorncast's second annual SUMMER MOVIE PREVIEW, wherein Jasper and co-host Ghostface Millah again survey — which means "prejudge," basically — the next four months of hot, raw blockbuster action. On this reboot-, remake- and sequel-stuffed episode of Scorncast, the guys discuss Andrew Garfield's new "hipster" Spider-Man, the mighty xenomorphin' mysteries of Prometheus, and why they ain't ready for Madea's Witness Protection, dammit. Swoon as Ghostface resists his attraction to Magic Mike! Wince as Jasper's impersonation of Christian Bale sounds more like Angry Richard Nixon! Gasp as nobody remembers the title to Step Up: Revolution! And best of all: Thrill as you click the Scorncast banner below to listen!


Scorncast #47: One Scorny Summer (46:18)
original music by Bug
Note: Scorncast #47 was recorded and edited prior to G.I. Joe: Retaliation's flabbergasting release-date dosido from June 29, 2012, to March 29, 2013. Understandably, there was much weeping and gnashing of teeth at the Scornquarters when Jasper and Ghostface learned of this rescheduling, but they ultimately decided to leave the episode unabridged... in loving tribute of what might have been.